Services Provided


New patient appointment - An initial interview is scheduled for 80 minutes.
At New England Regional Headache Center, we understand that when you suffer from prolonged pain, you no longer feel yourself. We take pride in helping you return to you!

We start by reviewing your full headache and neurological history and what triggers your headaches or migraines. You will have a complete physical and neurological exam. Any pertinant laboratory tests and scan (MRI or CT).

We treat by :
1. Teaching you to eliminate trigger factors,
2. Stress reduction training,
3. Prescribing abortive (rescue) medications and,
4. Prescribing daily (prophylactic) medications.




We also treat with Occipital Nerve Blocks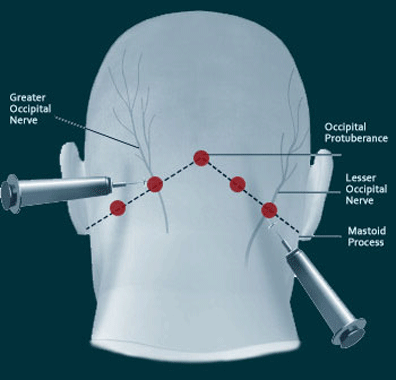 Many patients with migraines report that their pain arises from the neck or, the base of the skull. Often arises on one side or the other and extends forward to involve the top of the head, the temple, the forehead, the eye or some combination thereof.
Residing in the areas of the skull base are the occipital nerves. Irritation/inflammation of these nerves may cause a specific type of "neuralgic" pain or occipital neuralgia. These nerves serve as major starting point for the pain signals that produce migraine and other types of headache. If one can block this area then it may be possible to stop the flow of pain at least temporarily.
The blocks themselves are relatively simple to perform. A small needle is used to inject a solution into the area around the nerves; the composition of that solution differs according to physician experience and preference but most often contains a long-acting local anesthetic and a steroid anti-inflammatory drug.
Pain relief can occur with startling rapidity, frequently within 15 minutes of the block(s). For those who experience relief, the duration of the therapeutic response varies widely: a day or so up to weeks… even months.
Trigger Point Injections
https://americanmigrainefoundation.org/understanding-migraine/the-basics-of-trigger-point-injections-for-headache-and/



and Infusion Therapy
which have proven to be successful for many headache sufferers.




. For information regarding treatment with botox click the link below:

Botox
CLINICAL TRIALS

Migraine Study


Do you suffer from Migraine? You may be eligible to participate in a research study with investigational anti-migraine medication Study related exams and study medication provided at no cost. Compensation for participation.
For more information please call 508-890-5633 or follow the links to more information regarding our studies:
Teenage Migraine Study

Does your child suffer from Migraine Headaches? NERHC, Inc. is conducting a research study with children between the ages of 12 and 17 who suffer from Migraine. Qualified participants will receive study related exams and investigational medication at no cost. Compensation for participation.
For more information please call 508-890-5633 or go to our patient service email liked below:
Email
patientservices@nerhc.org